NDSS Adult Summit: On the Road is a series of three one-day conferences taking place in cities across the country during late 2021 and 2022. Each conference will focus on a specific phase in the life of an adult with Down syndrome. Join us for any or all of the conferences to connect with the community and learn valuable information about adulthood and aging from our expert speakers. As the life expectancy for individuals with Down syndrome continues to increase, NDSS is committed to ensuring our adults with Down syndrome, their families, caregivers and other key stakeholders have the best, most accurate information to support healthy aging.
We anticipate that each event will host over 100 in-person participants.
Conference content will be available after the events for those who cannot attend in person.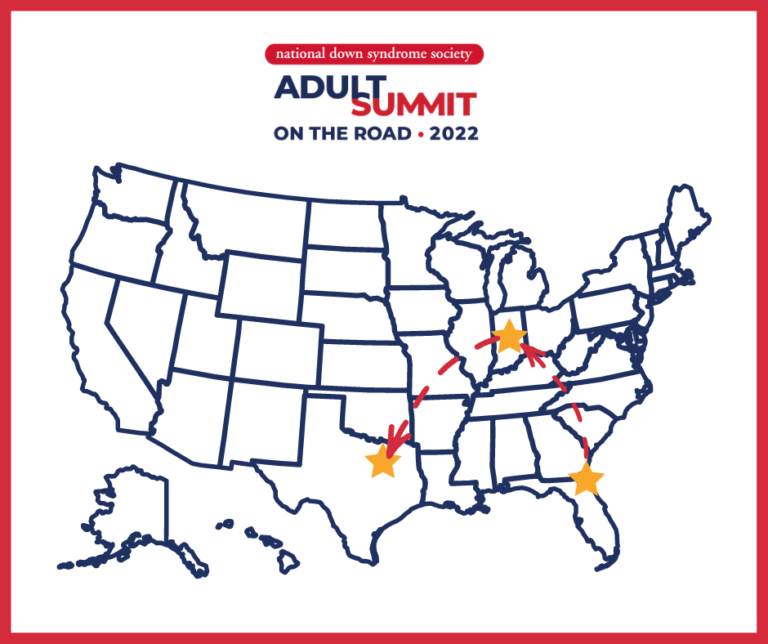 Dates, Locations and Focus Areas
Upcoming Conferences
Co-host: Down Syndrome Guild of Dallas
Where: Dallas, TX
When: August 27, 2022
Focus Area: Young Adults (20s and 30s)
View the agenda here
Purchase your tickets here
Completed Conferences
Co-host: Down Syndrome Association of Jacksonville
Where: Jacksonville, FL
When: March 4-5, 2022
Focus Area: 35+
Co-host: Down Syndrome Indiana
Where: Indianapolis, Indiana
When: June 11, 2022
Focus Area: Transition into Adulthood