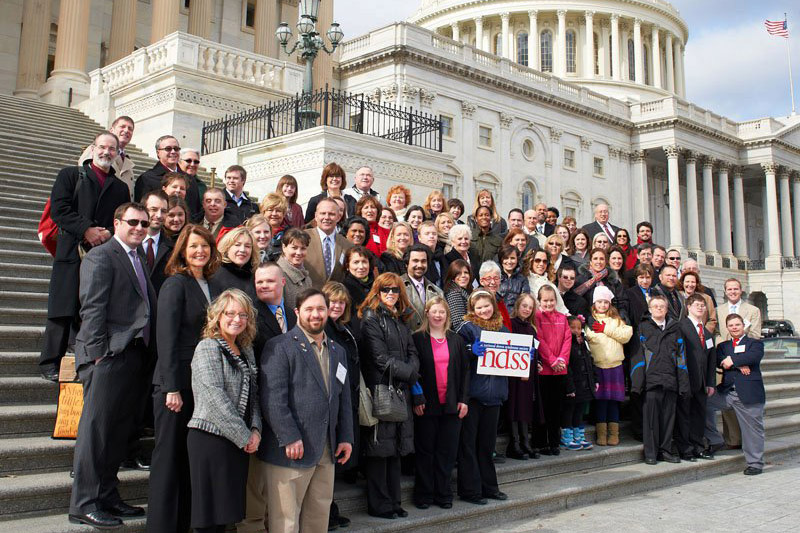 The NDSS Advocacy & Public Policy Program champions federal, state, and local policies that positively impact all people with Down syndrome across the country. Through our advocacy, NDSS works with Congress and federal agencies, as well as state and local officials, to develop and improve laws, regulations, and policies for the benefit of the Down syndrome community. NDSS also empowers self-advocates, families, and others to influence policy themselves. View our policy priorities by topic below or click to jump to your topic of interest to the right.
Down Syndrome Advocacy Conference Registration
---
Education
Increased funding for the Individuals with Disabilities Education Act (IDEA)  
(Top Priority) The Individuals with Disabilities Education Act (IDEA) (Public Law 101-476) makes available a free and appropriate public education to students with disabilities that fits their individual needs. Despite the federal government's promise to pay 40% of the extra cost of educating students under the IDEA, estimates show that the federal government covers only 14.6% of the cost. In response to this, multiple bills were to fully fund IDEA. They include:   
IDEA Full Funding Act (H.R. 5984 / S. 3213) 

This bill puts IDEA on a path to full funding over the course of the next several years.  
 
NDSS supports fully funding the IDEA at the level promised by the federal government because it would significantly increase the quality and quantity of special education and related services made available to students with Down syndrome and other disabilities.
---
Education
Keeping All Students Safe Act (KASSA)
Introduced by Representatives Don Beyer (D-VA), Donald McEachin (D-VA), and Chairman Bobby Scott (D-VA) in the House and Senator Chris Murphy (D-CT) and Chair Patty Murray (D-WA) in the Senate, the Keeping All Students Safe Act (KASSA) prohibits schools that receive federal funding from secluding or physically, mechanically, or chemically restraining students except when absolutely necessary in order to protect the safety of students and staff. The bill also seeks to better equip school personnel with the training they need to effectively implement evidence-based and proactive behavior intervention strategies. Lastly, the bill strengthens data collection requirements to increase transparency, oversight, and enforcement of minimum safety standards in schools.   
NDSS supports this legislation because harmful seclusion and restraint practices are disproportionately used on students with disabilities. In the 2017-2018 school year, 78% of students who had been subjected to seclusion or restraint practices were students with disabilities. We believe that students with disabilities deserve to be treated with dignity and respect and should be protected from the risk of traumatic, dangerous, and dehumanizing procedures as a means of managing challenging behavior in school.  
---
Employment
Transformation to Competitive Integrated Employment Act
(Top Priority)The Transformation to Competitive Integrated Employment Act (TCIEA) would support employers transitioning to paying competitive, fair wages to people with disabilities. The Fair Labor Standards Act of 1938 (FLSA) includes a provision called Section 14(c) that allows employers to pay people with disabilities less than the minimum wage. This bill establishes a grant program to help employers successfully transition out of the 14(c) certificate model.  

NDSS supports this legislation because it will give people with disabilities access to work and training environments that will allow them to acquire meaningful skills and better employment opportunities.  
Subminimum Wage at the State Level
NDSS is working at the state level to pass bills to phase out the payment of subminimum wage under Section 14(c). States that have taken steps to guarantee a minimum wage to workers with disabilities include:
Texas (2019) **this legislation eliminates subminimum wage in only certain circumstances 

Vermont began moving toward integrated employment for people with disabilities in the early 1980s with a partnership between the University of Vermont and state agencies. Vermont closed its last sheltered workshop in 2002. 
---
Employment
ABLE Employment Flexibility Act
The ABLE Employment Flexibility Act gives employees the option to allow their employers to contribute to their ABLE account in lieu of an employer-sponsored retirement plan.  

NDSS supports this legislation because it would remove a barrier to competitive integrative employment by allowing people with disabilities to save money without losing important government supports. It creates greater flexibility for employers striving to recruit, hire, and retain people with disabilities.  
---
Employment
ABLE Age Adjustment Act
The ABLE Age Adjustment Act would allow people who have acquired a disability before age 46 to open ABLE accounts. The Stephen Beck Jr. Achieving a Better Life Experience (ABLE) Act (Public Law 113-295) established Section 529A tax-free savings accounts for individuals with disabilities and authorized states to develop their own ABLE programs. Currently, to be eligible for an ABLE Account, the onset of the disability must occur before the age of 26. If passed, this bill would increase the onset age to 46.  

NDSS supports this legislation because it would not only increase economic self-sufficiency for nearly six million more individuals with disabilities, but it would also increase the overall security of the ABLE program.  
---
Health
The Charlotte Woodward Organ Transplant Discrimination Prevention Act
(Top Priority) The Charlotte Woodward Organ Transplant Discrimination Prevention Act is named after Charlotte Woodward, an advocate with Down syndrome and member of the NDSS staff who received a life-saving heart transplant a decade ago. Since then, she has advocated tirelessly to ensure others with Down syndrome and other disabilities have the same access to life-saving care that she did.  

NDSS supports this legislation because it would prevent discrimination based solely on disability in the organ transplantation process and provides additional legal recourse to people with Down syndrome and other disabilities when they do face discrimination in the process.
---
Health
Organ Transplant Discrimination State-Level Legislation
Until a federal law is passed, NDSS will continue to work to protect people with disabilities from discrimination in organ transplantation at the state level as well. Currently, 34 states have laws in place that prohibit this discrimination:
---
Health
State-Level Down Syndrome Information Laws
NDSS supports state pro-information laws that ensure that health care providers provide quality information to anyone receiving a diagnosis of Down syndrome. As of June 2022, the following states have passed Down syndrome information bills:
---
Health
Prenatal & Postnatal Information
NDSS is a pro-information organization, and one of our key legislative priorities is ensuring that all women and families across the country receive the most accurate, up-to-date, evidence-based information available about Down syndrome when receiving a prenatal or postnatal diagnosis.

The Prenatally & Postnatally Diagnosed Condition Act (Public Law 110-374) was enacted into federal law in 2008 to increase the readiness of accurate, up-to-date, and balanced information about Down syndrome to women and families considering prenatal testing. The federal law was not funded and, in the absence of funding, advocates have taken up the issue with their state legislatures.
---
Health
Neuroscience Center of Excellence Act
The Neuroscience Center of Excellence Act would establish a Center of Excellence within the Food and Drug Administration (FDA) to support research related to neurological conditions such as Down syndrome and Alzheimer's.
NDSS supports this legislation because improving the scientific understanding of Down syndrome and other neurological conditions improves the quality of treatments and services available to our community.
---
Health
Funding for the INvestigation of Co-occurring conditions across the Lifespan to Understand Down syndrome (INCLUDE) project at the National Institutes of Health
As part of the Consolidated Appropriations Act of 2018 (Public Law 115–141), Congress directed the NIH Director to develop a trans-NIH initiative to study trisomy 21. The goal is to improve the health and neurodevelopment of people with Down syndrome. The study also includes people in the general population with Alzheimer's disease/dementia, autism, cataracts, celiac disease, congenital heart disease, and diabetes. The INCLUDE project launched in June 2018 in support of the Congressional directive. 
 
NDSS supports continued funding for the INCLUDE project because it will allow NIH to expand its research efforts on Down syndrome and the co-occurring conditions people with Down syndrome experience.  
---
Health
Alzheimer's Disease
In the summer of 2021, the FDA approved a new drug called aducanumab, one of the first treatments meant to address the cause of Alzheimer's disease and the first in a new class of treatments. The Centers for Medicare & Medicaid Services (CMS) decided on the coverage for this new class of treatments and proposed a plan that excludes people with Down syndrome and other intellectual and developmental disabilities. While we do not yet know the extent to which this class of drugs will benefit individuals with Down syndrome, we want to make sure they have every opportunity to receive the best possible treatments now and into the future. 

In February 2022, Down Syndrome Affiliates in Action (DSAIA), Down Syndrome Medical Interest Group (DSMIG-USA), GiGi's Playhouse Down Syndrome Achievement Centers, Global Down Syndrome Foundation (Global), LuMind IDSC Foundation (LuMind IDSC), National Down Syndrome Congress (NDSC), National Down Syndrome Society (NDSS), and National Task Group on Intellectual Disabilities and Dementia Practices (NTG) created a community-wide response to CMS' final decision. Because of how significant the impact of Alzheimer's disease is on our community; it was critical that we come together and share a common message to combat this discrimination and protect our community's access to treatment for Alzheimer's disease. 

In response to this joint letter and the thousands of comments made during CMS' public comment period, CMS has removed the exclusionary language from its final decision. While this is a big win for the community, there is much more work to do.
---
Caregiving
Autism Family Caregivers Act
(Top priority) Introduced by Representatives Grace Meng (D-NY), Mike Doyle (D-PA), and Brian Fitzpatrick (R-PA), the Autism Family Caregivers Act would provide family members who care for children with Autism or other developmental disabilities, including Down syndrome, with caregiving training aimed at improving the mental and physical well-being of those they care for. The training courses would include instruction on implementing routines and home activities that address communication skills, daily living skills, social skills, and behavior management. The bill would also establish a Caregiver Skills Training National Technical Assistance and Evaluation Center to support the implementation of the training programs, continuously monitor and evaluate the programs, and establish best practices thereafter.   
NDSS supports this legislation because we know the difficulties that caregivers face. This bill would provide caregivers with the training and support they need to provide the best possible care for their loved ones with Down syndrome and other disabilities. 
---
Civil rights
Marriage Access for People with Special Abilities (MAPSA) Act
(Top priority) Introduced by Representatives John Katko (R-NY) and William Keating (D-MA), the Marriage Access for People with Special Abilities Act (MAPSA) ensures that marital status would not affect SSI or Medicaid benefits for those with intellectual or developmental disabilities (IDD). Under the current law, eligibility for Supplemental Security Income (SSI) is determined using the incomes of both spouses. If passed, MAPSA will make sure eligibility for individuals with intellectual and developmental disabilities is based only on an individual's income and not their spouse's.  

NDSS supports this legislation because, under current law, when two individuals with IDD choose to marry, they will likely lose benefits. As a result, most adults with IDD cannot afford to marry. This bill, if passed, would correct this injustice.
---
Civil rights
Safe Interactions with First Responders
Because people with IDD often need accommodations related to communication, interactions with first responders can produce dangerous misunderstandings. Following the death of Ethan Saylor in 2013, NDSS played a key role in the passage of the Ethan Saylor Alliance legislation in Maryland. NDSS also collaborated with other stakeholders and the US Department of Justice (DOJ) Community Relations Service to develop the new DOJ Intellectual & Developmental Disabilities Awareness Training for Law Enforcement. NDSS is continuing to advance legislation and training opportunities like Maryland's across the US.