Athlete Ambassador Program
NDSS envisions a world in which all people with Down syndrome have the opportunity to enhance their quality of life, realize their life aspirations, and become valued members of welcoming communities. Your role as an Athlete Ambassador can help make this vision a reality!
All funds raised by #TeamNDSS members will go towards supporting our program areas that directly serve individuals and family members in the Down syndrome community. With your support, we will foster an inclusive community of like-minded individuals and athletes with a passion for helping local communities and the Down syndrome community live healthier.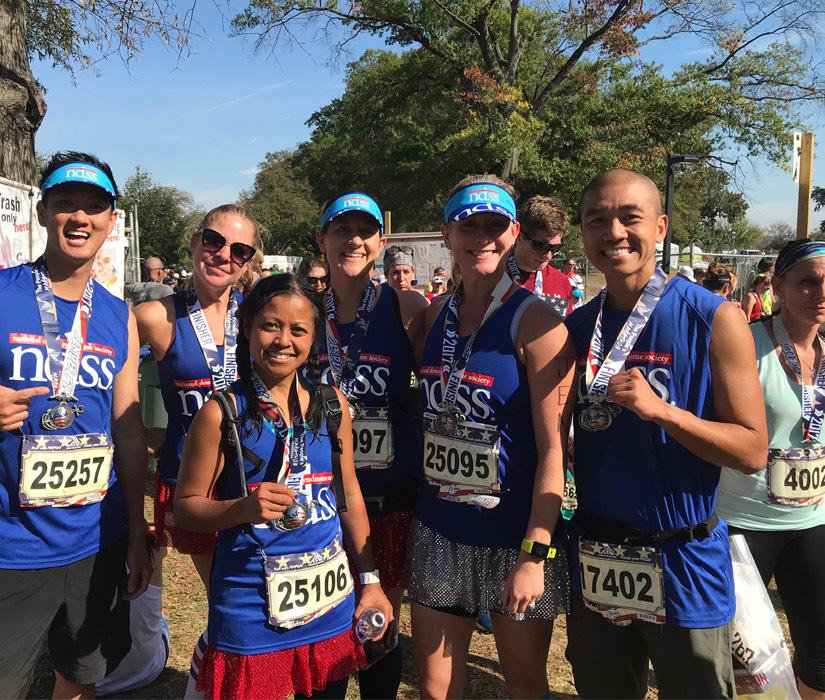 Roles and Responsibilities
Athlete Ambassadors are encouraged to be involved in local, state, national and/or international races and sporting events and be active in their community. This may include volunteering at events and races in your local area, training and participating in events and races, promoting health and fitness and assisting NDSS with sporting events, campaigns and initiatives. There are no fundraising requirements to be an Athlete Ambassador and no racing participation requirements. Included in the annual registration fee is NDSS gear to wear during activities, races, and community events. Athlete Ambassadors will cultivate the NDSS mission by building awareness, sharing knowledge, promoting acceptance and highlighting the abilities of individuals with Down syndrome.
Frequently Asked Questions
Anyone can join! Anyone, meaning YOU! NDSS Athlete Ambassador Team is open to anyone age 18 and over no matter where you live. Athlete Ambassadors are parents, siblings, aunts, uncles, grandparents, cousins, neighbors, friends, teachers, community leaders and self-advocates!
Registration is ongoing, but limited to the first 200 participants who sign up each calendar year.
Anyone! We encourage all sorts of participation as long as you are willing to represent NDSS while being active! Athlete Ambassadors are not only runners, but they participate in athletic competitions like CrossFit, swimming, wrestling, and much more!
We do not require team members to fundraise with the exception of Premier Charity Slots at National Racing Events. Although not required, we do encourage our Athlete Ambassadors to hold one fundraising event or fundraise for a race each year. NDSS will provide the tools and support needed to ensure a successful and positive fundraising experience. All contributions to NDSS are tax deductible. All donors will receive a donation receipt for tax purposes upon request.
The membership is an annual membership. Our new member fee is $125 and then, our annual renewal fee is $75.
Athlete Ambassadors will receive NDSS race swag (shirt, hat and other NDSS gear), access to a private Team NDSS online community (through Facebook), exclusive vendor discounts, perks and giveaways, priority entry to national races and events, general coaching services and tools for athletic success including team calls, online workshops, and fundraising support.
There is no minimum requirement for number of races or athletic events.