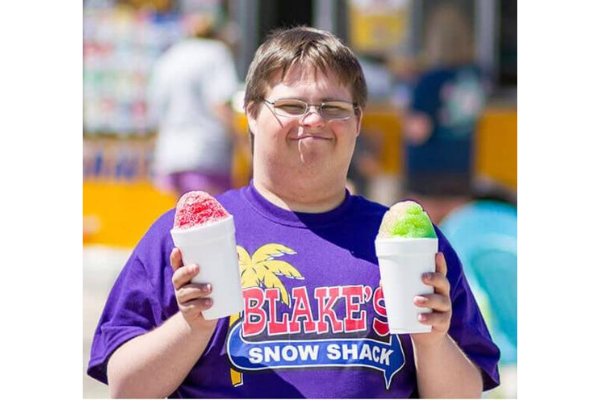 About the Scholarship
Mission
The Blake Pyron Entrepreneurship Scholarship was established with the goal of supporting self-advocates as they pursue their dreams of owning their own business.

History
Blake Pyron has never been limited: not by his community, not by his parents, and certainly not by his Down Syndrome. That's why he rolled up his sleeves, stocked up on syrup, and opened Blake's Snow Shack for business in 2015. His journey to become a business owner started shortly after he graduated high school. Blake loved his job working at a barbecue restaurant, but it closed one month after his senior year ended. Blake, with the support of his loving and dedicated family, started his own business – Blake's Snow Shack.

Blake's inspirational story has gone worldwide, with national and international press establishing the Snow Shack as a can't-miss stop on any Texas tour. After all, it serves up two amazing things: crazy delicious snow cones and Blake's million-dollar smile.
With the goal of helping other self-advocates pursue their dreams of entrepreneurship, Blake and his family have established the Blake Pyron Entrepreneurship Scholarship.

2023 Scholarship
Blake will be providing one $500 to one self-advocate looking to start their own business.
Additional Information
Applicants for the scholarship must:
Have Down syndrome
Be 18 years of age or older
To apply, please provide answers to the following questions:
Tell us why you want to start your own business
Describe your entrepreneurship and the type of business you want to establish
Detail why are you so passionate about this adventure
Include your name, address, age, phone number, and e-mail address in your application. Self-advocates may apply for themselves or have someone complete the application for them.