Throughout our history, the National Down Syndrome Society has been at the forefront of Down syndrome research. Through a variety of research programs and activities, now focusing on advocacy for Down syndrome research on the federal level, NDSS has played a major role in advancing knowledge about Down syndrome in an effort to ensure that people with Down syndrome have the opportunity to enhance their quality of life, realize their life aspirations, and become valued members of welcoming communities.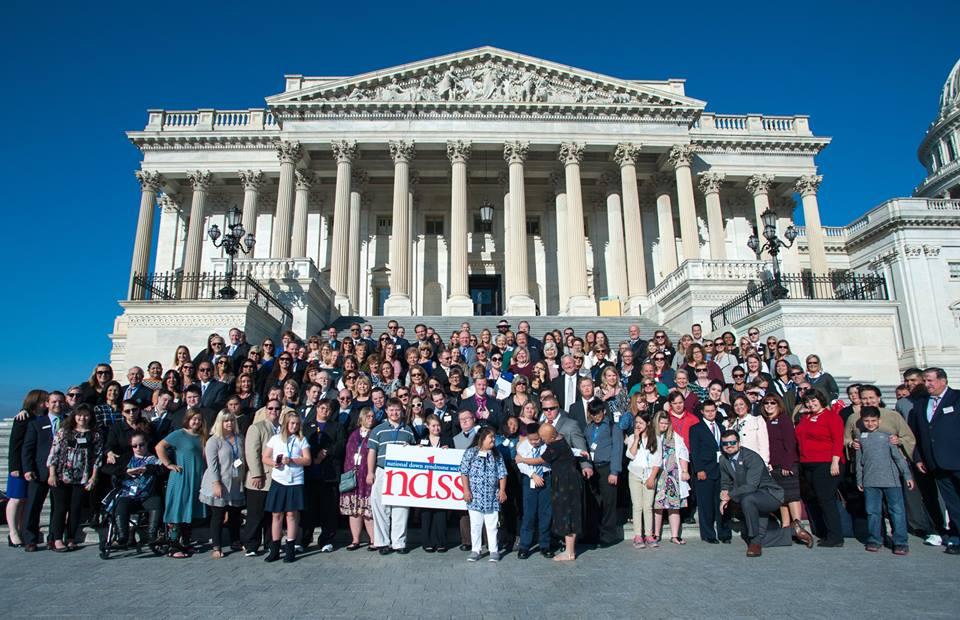 Clinical Research
This section provides useful information about clinical trials and research studies. Whether you are a parent, guardian, or family member of a person with Down syndrome, or you are researching a trial or study for yourself, you can use the following guide to learn about how trials and studies are structured and the kinds of questions you might ask when considering participating in a research study or clinical trial.
What Is a Clinical Trial?
A clinical trial is a research study conducted with patients to determine if a particular new medical treatment, drug, or device is effective. In some cases, trials are used to determine if existing therapies can be used successfully in new ways.
Usually, before a new therapy is evaluated in a clinical trial, it has already been tested rigorously in the laboratory (to gauge its effectiveness) and in animals (to see how it affects a living organism). Once researchers are convinced that a particular therapy holds the promise of being safe and effective, they use clinical trials to evaluate the therapy in humans.
All clinical trials consist of three phases:
PHASE ONE
In the earliest stage of a trial, researchers test the drug or other treatment on a very small number of people to determine what amount can be given safely, and what the best way to administer the treatment is. They also monitor patients very closely to learn about any side effects that occur.
PHASE TWO
Researchers administer the therapy they have refined in Phase One to a larger group of patients in order to measure its effectiveness in treating the condition it is intended to improve.
PHASE THREE
If researchers find that the new therapy is effective, they then compare it to the current standard of treatment to answer questions such as: Is the new therapy more effective? Does it have fewer side effects? Is it useful for patients whose condition has not improved with the current treatment?
If the new therapy is found to be better than the current treatment, it may become the new standard. Or, it may be reserved as an optional treatment to be used in certain cases of the condition.
What Are The Benefits And Risks Of Participating In A Clinical Trial?
Deciding whether or not to participate in any clinical trial is a personal decision that should be made only after careful consideration of the benefits and risks involved. All trials share some of the same benefits and risks:
Benefits – If the new treatment is successful, participants who received it are the first to benefit from the discovery. Participants receive close medical attention and testing to monitor the slightest changes in their condition. Participants help future patients by aiding in the advancement of medical research about their condition and treatment options. Often, a clinical trial sponsor will pay for some or all of the costs associated with a trial.
Risks – Because all the potential side effects of a particular treatment are not yet known, there is a risk that a participant may be harmed. Sometimes researchers randomize patients into treatment groups, and participants are not able to choose which therapy they receive. A participant's insurance policy may not cover all – or even any – of the costs associated with the study.
In addition to considering the benefits and risks involved, potential participants may want to think about what they hope to gain from taking part in a clinical trial. Personal preferences vary, so a trial that may be right for one person may not be right for another.
What Is A Research Study?
Researchers often develop research studies to learn more about a particular condition, disease, disorder or aspect of life. Research studies can vary greatly in terms of what is required of participants. Some may ask for biological samples (blood samples), while others might just require interviews or paper-based surveys. Research studies will have a question that they are seeking to answer and a protocol, or method, to figure out what that answer might be.
How Do I Decide If A Clinical Trial Or Research Study Is A Good Fit?
Each clinical trial or research study has its own set of criteria that participants must meet. Researchers will usually take a complete medical history of interested patients to determine if they qualify for the study. Sometimes, medical tests are required as well. There are several factors that might affect eligibility, including: the participant's age or sex, the date of diagnosis of the condition, the stage of the illness or the ability of the patient to complete any procedures required by the study. The clinical trial or research coordinator can inform you about the particular criteria for the study you are considering.
Even if an individual qualifies for a particular study or clinical trial, there are still many factors that should be taken into consideration before making the decision to enroll: What time commitment will be required for participation? What kinds of tests and treatments does the study involve? How often are they done? How could the study affect the participant's daily life?
What If I Am Researching A Trial For My Child Or Family Member With Down Syndrome?
If you are researching a study or clinical trial for your child or family member who has Down syndrome, consider speaking with the clinical trial or research coordinator on your own first. This will allow you to fully understand the trial before explaining it to the person who may be participating. Once you understand the trial, explain it to the participant in terms he or she can understand. Afterwards, schedule a meeting for both of you with the research or trial coordinator. This will allow the person with Down syndrome to take an active role in the decision-making process and ask any questions he or she may have.
You may also consider touring the clinical trial's facilities and having the potential participant meet doctors, nurses, and others involved in the study; ask if there are other participants you can speak with as well. The goal of this process is to provide potential participants with as much clear and understandable information as possible so that they can take an active role in their medical care.
What Is The Difference Between Informed Consent And Informed Permission?
Individuals who decide to enroll in a clinical trial are required to sign a consent form. This is usually the case for research studies as well. Typically, this form explains the trial's purpose and protocol. It also describes the treatment that is being evaluated, along with its risks, possible benefits, and known side effects. A participant should only sign this form after he or she is fully informed about what is involved in the study and has made a voluntary decision to participate.
When the potential trial or study participant is a minor, parents are asked to give "informed permission" for their child to participate. Medical experts agree that children as young as seven years old can and should be included in the decision-making process. Therefore, children should receive an explanation of the study that is appropriate to their age and comprehension level, and they should agree to enroll in a trial before parents sign the consent form.
Encouraging children's involvement in the informed consent process is done out of respect for their rights as individuals. The same respect should be afforded to individuals with cognitive disabilities. To the extent that it's possible, adults and children with Down syndrome should be involved in making decisions about their medical treatment. When considering a clinical trial, they should understand as much as possible about the requirements and procedures involved in the study, and they should have a say in whether or not they want to participate. They should also be aware that they have the right to discontinue their participation at any time.
How Do I Learn About Current Clinical Trials Or Research Studies?
There are many ways to learn about clinical trials or research studies that are currently accepting participants. Your doctor might be involved with a clinical trial, or he or she may know of other trials or studies that might be appropriate.
You can also conduct your own research on the subject, or look on the NDSS webpage to find a listing of current clinical trials and other research studies.
Or, visit www.clinicaltrials.gov.
Additional Resources
American Association on Intellectual and Developmental Disability
www.aaidd.org
Promotes progressive policies, sound research, effective practices, and universal human rights for people with intellectual and developmental disabilities.
Brain and Tissue Bank for Developmental Disorders – University of Maryland
medschool.umaryland.edu/btbank
The objective of this human tissue repository is to systematically collect, store, and distribute brain and other tissues for research dedicated to the improved understanding, care, and treatment of individuals with developmental disorders.
ClinicalTrials.gov
clinicaltrials.gov
A registry and results database of federally and privately supported clinical trials conducted in the United States and around the world, giving information about a trial's purpose, who may participate, locations, and phone numbers for more details
Down Syndrome Research Foundation
www.dsrf.org
Provides educational programs and services grounded in foundational research
National Institute of Child Health and Human Development (NICHD)
www.nichd.nih.gov
Supports the research of intellectual and developmental disabilities and works to improve the health of individuals and communities
National Institutes of Health
www.nih.gov
The National Institutes of Health (NIH), a part of the U.S. Department of Health and Human Services, is the nation's medical research agency—making important discoveries that improve health and save lives.
PubMed Central
www.ncbi.nlm.nih.gov/pmc
PMC is a free full-text archive of biomedical and life sciences journal literature at the US National Institutes of Health's National Library of Medicine
Research Match
www.researchmatch.org
ResearchMatch aims to serve as an effective, useful and complementary recruitment tool that will help connect willing volunteers with researchers who are searching for appropriate volunteers to be placed in their research studies (not just clinical trials)

National Institutes of Health INCLUDE Project
https://www.nih.gov/include-project
The INCLUDE (INvestigation of Co-occurring conditions across the Lifespan to Understand Down syndromE) Project was launched in June 2018. INCLUDE will investigate conditions that affect individuals with Down syndrome and the general population, such as Alzheimer's disease/dementia, autism, cataracts, celiac disease, congenital heart disease, and diabetes

DS-Connect: The Down Syndrome Registry
https://dsconnect.nih.gov/
DS-Connect® is a resource where people with Down syndrome and their families can connect with researchers and health care providers, express interest in participating in studies, including studies of new medications, and other treatments, and take confidential health-related surveys.