The Run for 3.21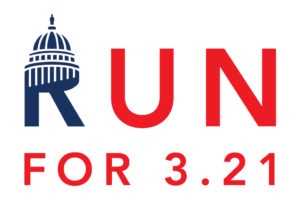 Run for 3.21 took on Saturday, March 19 to Monday, March 21, 2022. This three-day journey between New York City and Washington, D.C. was one to remember. The team of runners spent over 50 hours, day and night, completing the course from the heart of New York City, Newark, Princeton, Philadelphia, Wilmington, Baltimore, and Washington D.C.
Stay tuned for more details on 2023!
Testimonials
"I've rarely been a part of something so powerful and inspiring as Run for 3.21, specifically in honor of my two kids with Down syndrome,

Jasmine

and Joel. I think it's important to be a part of something bigger than myself to show my kids what is achievable when you work hard and focus. It's easy to feel alone as a parent of a child with Down syndrome, but the friendships and memories that I made

at

Run for 3.21 changed that feeling immediately. The camaraderie and encouragement sustained me over the three-days as we ran. It's a joy to give back to NDSS for all that they have given to me and my family. "
– Leslie

Hoglund
"Run for 3.21 was an amazing experience and it gave me the opportunity to meet and connect with other parents of children with Down syndrome. We were able to not only share our experiences but also learn more about programs available to our loved ones. It also gave me the opportunity to build a special friendship with my running partner Jim and his wife Dori, as we shared stories of our daughters Penny and Isla. "
– Rey Rivera
Back for a 4th year in a row and I am often asked why? Why do I run? This sign says it all!
"Go Mom"
But what you can't see is the fine print… "run for Maeve." Even Maeve's younger siblings know why I am out there day and night literally running all the miles. But there is so much more to it than that. Awareness and inclusion are not a one and done thing. We have to continue educating others about the challenges individuals with Down syndrome face every day. We have to continue promoting awareness to the community. We have to find new avenues to bring inclusion to the forefront. We have to keep showing up. Sure, I could have run the first year and said, hey, I did my part! But then what? This isn't a race. This a long distance, endurance event.
Every time I lace up my shoes and throw that NDSS shirt on, I am running for awareness. Every time that someone asks about NDSS, I am given the opportunity to introduce that individual to Maeve and all the wonderful qualities she brings to our family and community. Every race we attend, Maeve is out on the course cheering for every single runner, proving she knows what inclusion really is about. Being an NDSS athlete ambassador since the program was started has given me the opportunity to make connections to the community and provide others the space to share that they too have a connection to the Down syndrome community. Maeve is my reason for coming back year after year to #runfor321 with the National Down Syndrome Society! Maeve is my reason for continuing to go the extra mile!
-Gina Mannion