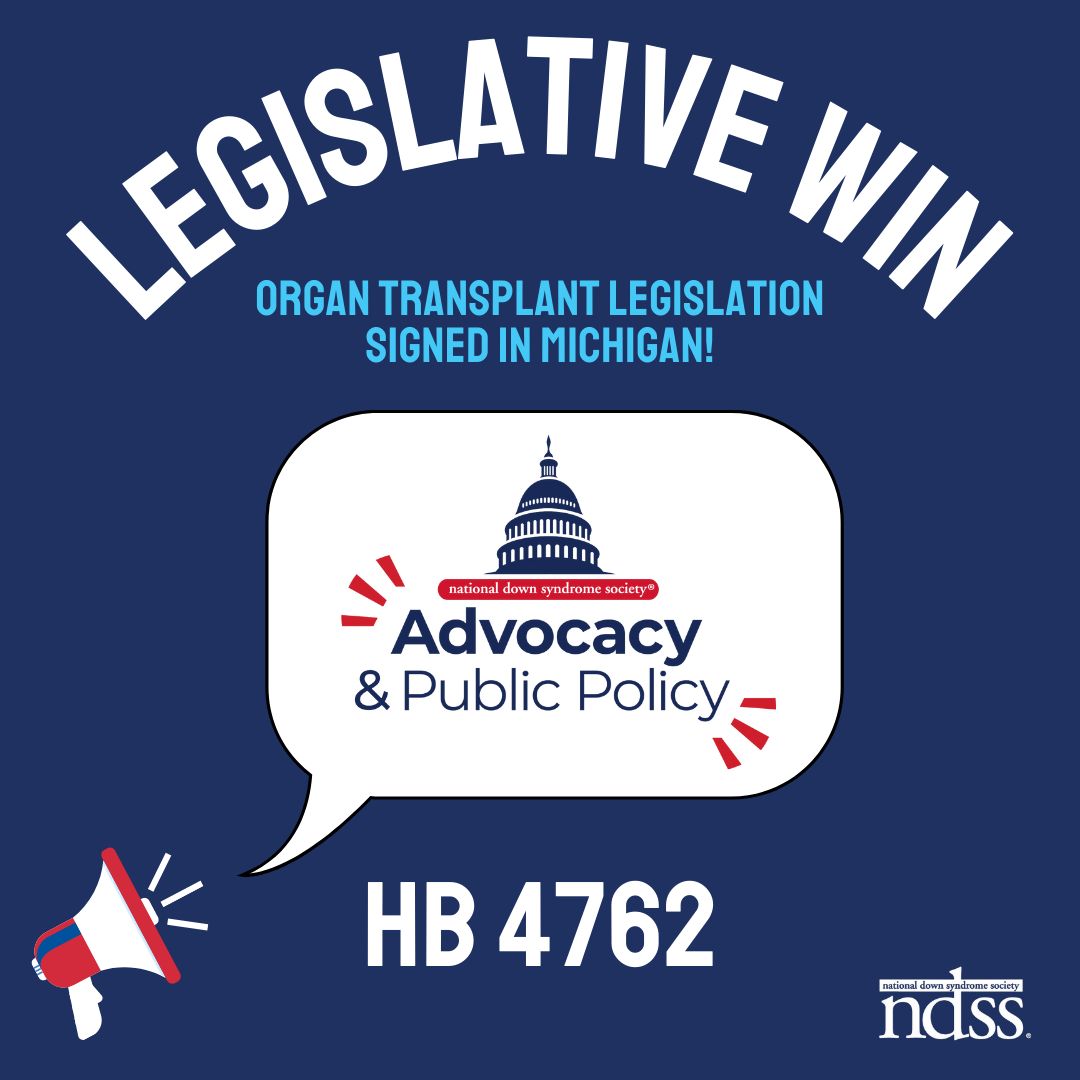 On December 22, 2023, HB 4762 was signed into law by Governor Gretchen Whitmer of the state of Michigan. This law, introduced by State Representative Bronna Kahle, Senator Curtis Hertel, Jr., and Senator Curt VanderWall, prohibits discrimination against organ transplant recipients based solely on their disability and helps ensure that people in the state of Michigan have equal access to this lifesaving care. With its passing, Michigan became the 35th state to pass this type of legislation.
National Down Syndrome Society (NDSS) DS-Ambassador grassroots advocates Sherri Karabelski and Gary Koutsoubos played a critical role in advocating for this legislation alongside NDSS staff and other state advocates.
Karabelski shares "As parents, we do our best to protect our children, and my lengthy involvement and advocacy on this bill was an attempt to protect my son Shane and those like him with disabilities all across Michigan from being discriminated against should they need an organ transplant. I am proud, and relieved, that this bill will now help provide more Michiganders equal opportunity at life-saving medical care."
Kandi Pickard, NDSS President and CEO, says "Individuals with disabilities deserve life-saving organ transplants. To deny this is a violation of their basic human rights. We are thankful to Governor Whitmer and the state legislature specifically Representative Bronna Kahle, Senator Curtis Hertel and Senator Curt VanderWall for prohibiting discrimination through the passage and signing of this bill. It will undoubtedly save the lives of countless Michiganders with disabilities in need of transplants now and in the years to come."
To learn more about organ transplant discrimination and for a list of states who have passed legislation, click here.
To learn more about the DS-Ambassador grassroots advocacy program, click here.